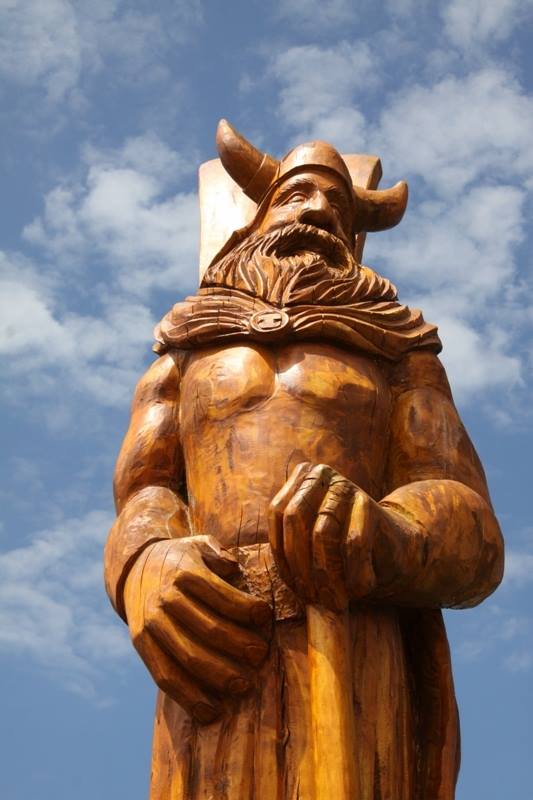 The Iola-Scandinavia area offers boundless recreation opportunities and attractions not to be missed. Click here to learn more about the Winter Carnival, Health Fair, City Wide Rummage sale and more.
These include:
IOLA WINTER CARNIVAL – First weekend in February. Ski Jumping, Cross Country Skiing, Ice Sculpting. For more information on skiing events go to www.iolawintersportsclub.org . Like Iola Winter Carnival on facebook.
CITY WIDE RUMMAGE – May 18-20, 2023. For additional information go to www.iolarummagesale.com.
WORS – Wisconsin Off Road Series – America's Largest Mountain Bike racing series will be held Sunday, June 13, 2021 . The Iola Winter Sports Club hosts the event at their location on Highway MM north of Iola. The Iola Bump and Jump course offers a great place to race or spectate an incredible race. For additional information go to http://www.wors.org/ or contact Phil Johnsrud at 715-445-4777 or visit http://www.iolawintersportsclub.com
ANNUAL ROAST PORK DINNER – Scandinavia Volunteer Fire Department to hold their Annual Roast Pork Dinner and Raffle in April at the Scandinavia Fire Department Station, serving from 4pm-7pm. Dinners include pork, baked potato, coleslaw, roll and dessert – $10 for ages 12 and up, $5 for ages 6-11, 5 and under are free. Advance tickets available at: Premier Community Bank, Tomorrow Valley Co-Op Scandinavia, Silver Lake Lanes, Little Norway or any Scandinavia Firefighter.
IOLA HISTORICAL SOCIETY STRAWBERRY FEST – Fourth Sunday in June: Don't miss the opportunity to enjoy the days of yesteryear while enjoying strawberry shortcake at the Iola Historical Society grounds. Just West of Main Street on Depot Street. The Iola Historical Society is also raising funds for restoring the Iola & Northern Depot. Stop in and see the antique fire station designed after the original facility on State street in Iola. Three donated fire apparatus' are housed in the new building.
SPECTACULAR FIREWORKS DISPLAY – Don't miss the awesome display of Fireworks on July 3. Purchase your cash raffle tickets now for a chance to win $5,000.00 limited ticket sales.
IOLA OLD CAR SHOW and SWAP MEET – July 6-8 2023, One of America's largest Car Show and Swap Meet is held annually the 2nd weekend of July. Show cars 1990 and older will be classified as Post-War, Pre-War, Modified, Old Cars Young Drivers, All-Original and Blue Ribbon Concours. The show has a "Teamed to Learn" exhibit tent, 4,187 Swap Meet Spaces, Car Corral area with vehicles 2000 and older. Great food and camping is available. Watch the Iola Car Show Web Page for NEW attractions Friday and Saturday evenings. Daily Admission $15.00, 3 Day Pass is $28.00, Age 12 and under are free. For more information call: 715-445-4000 or go to the web page here. E-mail: information@iolaoldcarshow.com
TASTES AND TUNES of IOLA-SCANDINAVIA – A day-long event featuring various genres of music and food at a dozen area businesses! Kickoff Friday night July 15 and all day Saturday July 16, 2022
SCANDINAVIA CORN ROAST – First Weekend in August – Great Family Event. All weekend long enjoy carnival rides and concessions, great food and refreshments, great live musical entertainment for all genres, Friday 5K Cob Run, Saturday parade and ball games, Corn Roast on Saturday and Sunday, Wood Sculpting Competition, Auction, Craft Fair Saturday, Pie Social, Tractor Pull Saturday and Truck Pull Sunday! Saturday & Sunday visit the historic Knoph Cabin & Jole Barbershop museums on the grounds. Located at Ellison Memorial Park in the Village of Scandinavia, Wisconsin, this is a well-rounded family event with something for everyone! Held rain or shine with lots of tents, you're covered! For more information go to www.scandinaviacornroast.com or email scandinaviaboosterclub@gmail.com.
IOLA FIRE & AMBULANCE FALL FESTIVAL RAFFLE – third Saturday in October food, drinks and bucket raffles.
TASTE OF NORWAY – will held on October 7, 2023 at the Iola Historical Society Complex. 10:00 a.m. – 3:00 p.m. Norwegian pastry making, lefse making and Lost Arts artisans ply their crafts ranging from rosemaling, blacksmithing, yarn spinning, jewelry making, sewing, rugweaving, beekeeping among other lost arts. Children's activities will take place in the replica vintage one-room schoolhouse, sponsored by the Sons Of Norway's Norskeland Lodge 5-580 of Iola. For more information: www.iolahistoricalsociety. This day coincides with the Hidden Studio Art Tour in Waupaca and Portage Counties.
IOLA LIONS CHRISTMAS PARADE – and Santa's Visit: First Saturday in December, 10:00 a.m. This event is certain to get you in the mood for holidays. Visit with Santa following the parade at the Iola Historical Society complex. The Central Wisconsin Electric Cooperative will be collecting Toys for Tots at various location. Items can be donated the day of the parade.
GLACIER WOOD GOLF CLUB – (715) 445-3831 Rated #4 in the nation by Golf Advisor for Top Golf Courses Under $50! Pro shop, cart rentals, beautiful newly completed restaurant with lounge and nightly specials. A beautifully-designed course will challenge the novice to expert golfer.
BICYCLING – The Iola-Scandinavia has miles and miles of scenic, lightly-traveled back roads plus trailhead access in Scandinavia to the Tomorrow River State Trail, which extends west to Plover, Wisconsin and east to Manawa (www.co.portage.wi.us/parks/666/Trail%20Map%20Flyer.htm). Casual Monday and Wednesday night bike rides, and occasional longer weekend rides, are hosted by local members of the Heartland Bike Club and Nordic Ski Club (http://www.heartlandclub.org/). For more information on biking opportunities in the area check the club's website, or contact local biker Greg Loescher at 715-445-2456.
IOLA MILLS – A beautifully restored 19th century grist and sawmill. Currently under restoration not open to the public. For more information contact Tom & Melody Fucik 715-445-2989
IOLA HISTORICAL SOCIETY – Check out the Train Depot, Caboose, Old School House, Log Cabin and Helvetia Town Hall. Check out the latest project! The 1901 fire station replica is a great addition to historical society. A sure sign of spring is activity at the Iola Historical Society. Meetings resume in January and continue through November. Meetings are held the last Monday of the month at 6:30. Tours available by request. For more information contact Cliff Mishler (715) 445-4652.
IOLA WINTER SPORTS CLUB – (715-445-3411) iolawintersportsclub@gmail.com This facility offers ski jumping as well as cross-country skiing and snowshoeing on groomed and lighted trails.
IOLA SCANDINAVIA FITNESS AND AQUATIC CENTER– An awesome facility for your total work out needs. 6-Lane Lap Pool, Zero-depth Entry Leisure Pool with an impressive Water Slide, Whirlpool, Meeting rooms and Gymnasium with Climbing Wall. A must see with a visit to the area. Check out the web site for complete schedule hours
SILVER LAKE LANES– Located in Scandinavia this place has it all. Bowling is a great recreational hobby for young and old alike. League and tournaments as well as casual bowling is just down the street
HUNTING – Our entire area is ideal habitat for deer, turkey, grouse and small game.
FISHING – Area lakes and streams offer everything from pan fish to trout.
RELAXING – Take a stroll by the river, a hike in the woods, or just relax in the park and watch the wildlife on beautiful Lake Iola. The pace slows when you're relaxing in Iola/Scandinavia!
SNOWMOBILING – Miles of groomed trails will lead you anywhere in the county! There are several local clubs that take great pride in maintaining trails in the area.
And much more!